As interest in Islamic finance continues to expand rapidly both within and beyond the borders of the Muslim world, finance professionals and investors everywhere are hungry for expert insights into the current state of the industry, knowledgeable perspectives on emerging trends that are shaping it, and well-informed opinions about its likely future. A newly published book,
Global Leaders in Islamic Finance
, provides ample servings of all three.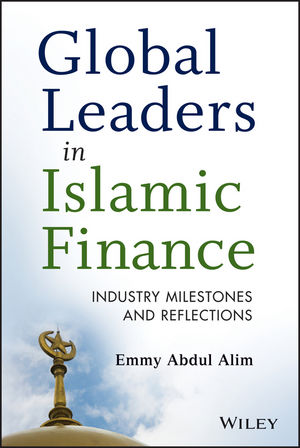 Global Leaders in Islamic Finance: Industry Milestones and Reflections by Emmy Abdul Alim (Wiley, November 2013)
Thomson Reuters Asia finance journalist Emmy Abdul Alim has accomplished a rare feat of scholarship akin to such modern classics as
Market Wizards
and
The Money Masters
. Taking her cue from authors Jack Schwager and John Train, she has brought together an elite group of leaders who have broken new ground in Islamic finance and let them express, in their own words, their views on the development, rise, and future course of the industry.
"It is not often that you hear such honest opinions coming out of the Islamic finance industry...This level of honesty is what you would find between industry practitioners, and certainly not aired in public," said the native Singaporean author, reflecting on her book writing journey.
Emmy Abdul Alim (above) getting ready for a local newspaper interview photo shoot in December 2013.
Photo: Sharifah Sharomsah
We met Emmy in December 2013 to uncover further details of her book writing journey. In our exclusive interview below, we'll reveal what readers could expect in
Global Leaders in Islamic Finance.

Wiley:
Describe the book in your own words.
Emmy:
This book provides an overview of the industry's roots, development and challenges from the point of view of its global leaders. There have been many books about Islamic finance but almost all of them are instructional and prescriptive. They're more textbooks than anything else, and targeted at the professionals interested in learning about the technicalities of Islamic finance. This book moves away from the technicalities of finance, which do not appeal to lay readers, and gives a more human perspective of Islamic finance. Crucially, the reader is introduced to the leaders who have built the industry. This is something that is currently missing in terms of the publications on Islamic finance for the general public.
Wiley:
How did you come up with the list of 10 global Islamic leaders you interviewed in this book?
Emmy:
It was a difficult enterprise particularly because the industry is still young and everyone still, more or less, knows everybody else. This means that there was a lot of sensitivities involved which I was keen to not upset. Foremost, I wanted to interview leaders who have made an impact at the global level. I had a long list of more than 25 names, which had to be filtered down to a short list of 15. Unfortunately while all 15 agreed to be interviewed, 5 interviews did not and could not happen for various reasons. The 10 remaining global leaders, though, stand on their own merits and strengths.
Wiley:
These people held very senior and authoritative positions in their own country. What are the challenges you faced in interviewing them?
Emmy:
Being in the industry helped a lot. If I did not have direct access to some of these leaders, I always knew someone who knew someone who could reach out to these global leaders. Unfortunately a few of them never showed up to the scheduled interviews! That was truly disappointing for me, especially after travelling thousands of miles to get to them! Some leaders took longer to reach than others - for example Hajj Saeed Lootah, His Royal Highness Prince Mohamed Al Faisal Al Saud and Sheikh Saleh Kamel – are industry pioneers and elders who do not freely give interviews. But I've learnt that with honesty, transparency and persistence, even these industry giants will say yes!
Wiley:
You have personally met 8 out of the 10 global Islamic finance leaders. How they approach challenges faced by the development, rise, and future course of the industry?
Emmy:
If you flip through the pages of the book, you'll see that some chapters have included more than just the main global leader. For example, in the chapter featuring His Royal Highness Prince Mohamed, I also interviewed the first chairman of his company, Dar Al-Maal Al-Islami, Dr Ibrahim Kamel, who was an important figure in the early days of contemporary Islamic finance. He is also a pioneer of the industry. In the chapter on Tun Dr Mahathir Mohamed, I also interviewed three others – Tan Sri Nor Mohamed Yakcop, Mustapha Hamat, and Wan Rahim Kamil. These three were also involved in the building of Malaysia's Islamic finance industry from the very beginning. In the chapter on Professor Rifaat Abdel Karim, I also interviewed Anthony Travis and Professor Simon Archer, both of whom have played significant roles in the development of Islamic finance vis-à-vis accounting and auditing. So the entire book involved interviews with a lot more than the 10 named global leaders.
Wiley:
How are they like in person?
Emmy:
The most interesting conversations involved their personal motivations for starting the first Islamic banks. These are people with immense integrity and courage. If forced to choose which of these leaders made the most impact on me personally, I would say - Hajj Saeed Lootah and His Royal Highness Prince Mohamed. In any industry we have many leaders; these two are visionaries. It is rare for any 'ordinary' person to be able to meet and have a conversation with people who have shaped human history. I count myself immensely privileged to have interviewed them.
Wiley:
How has this book-writing journey changed your life?
Emmy:
I can only say that the sum of all the interviews I conducted have changed my life. It is one thing to read about and report on news about Islamic finance but another to meet the individuals who have been seminal to the industry's very existence and development.
Wiley:
What are your hopes for people reading this book?
Emmy:
I would like readers to go away learning that Islamic finance is more than just 'not dealing with interest', and that fundamentally, the system as offered by Islam is one that is beneficial for all humanity, and not just for Muslims.
If you are not able to view the e-sampler above, click
here
to open it in your web browser.